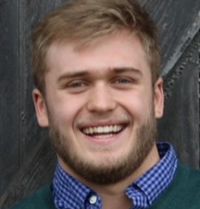 Montpelier, VT - Established in 1947, our Voice of Democracy audio-essay program provides high school students with the unique opportunity to express themselves in regards to a democratic and patriotic-themed recorded essay. Each year, nearly 64,500 9-12 grade students from across the country enter to win their share of more than
$2.1 million
in educational scholarships and incentives awarded through the program. This year's theme, picked each year by our national commander, was "
Is This the Country the Founders Envisioned?
"
The Department of Vermont is happy to announce that this year we will be represented by Jackson Balch. Jackson, who was sponsored by White River Post 2572 out of White River Junction, is a hard-working student athlete at Hartford High School where he has consistently been a straight A student. With Jackson's strong interest in statistics and mathematics we are proud to have him represent the Department of Vermont in Washington, DC!
If you haven't heard Jackson's speech yet watch below: